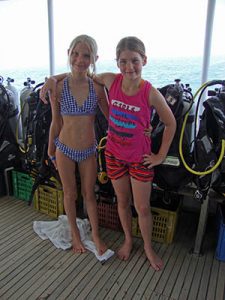 Wondering what to do with the kids while you're diving??
Turn them over to our professional dive team and we'll make them into your future dive buddies! We offer a wide range of educational entertainment for our younger guests.
Want to be sure that your child really likes diving? (from 8 years old)
Youngsters can join in the family fun of scuba diving or even start a trend! We introduce scuba diving as an activity that allows children to experience the amazing underwater world. Under close supervision, participants swim around on scuba in shallow water. An unprecedented experience and lots of fun!
Junior Scuba Diver course / Junior Open Water Diver course
Kids from 10 to 15 years old can earn their Junior Scuba Diver or Open Water Diver certification cards. The course consists of academic work, skill training, 4 open water dives and a whole lot of fun. After certification, they're ready to dive with their adult buddies!
It's never to early to learn additional dive skills. Advanced Open Water Diver and many dive specialties are open to certified Junior Open Water Divers. Why not sign up for a continuing education course with them?